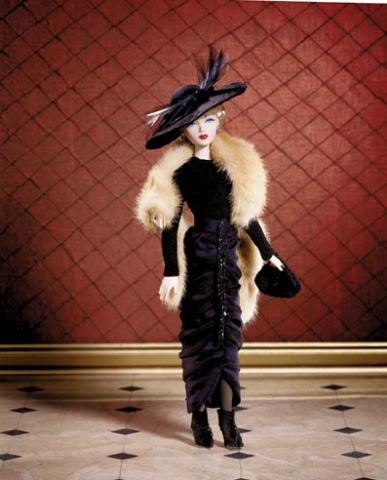 A Lady Knows
shows
Gene Marshall
in
the film of the same name
.
SKU: 38277
Released: 2001
Designer: Bob Lange
Inspiration: Pierre Balmain
Company: Ashton-Drake
Retail: 99.95
Gene doll with blonde hair. Red lips, grey eyeshadow.
Black boucle blouse, dark blue taffeta skirt.
Accessories
Edit
Light brown "fur" stole, black feathered hat, black handbag.
Black ankle boots
black stud earrings
Description
Edit
Mysterious - but what a lady! In A Lady Knows, Gene stars in this stylish film noir as a lady no one really knows. This lady of mystery is dressed in a black boucle top with a jewel neckline and a long skirt of dark blue taffeta and black chiffon and a seductive faux fur stole.
Story Card
Edit
In Gene's film noir classic, A Lady Knows..., she's a lady nobody knows! Her first entrance in the film was a stunner. A detective is sitting in his darkened office, hunched over his desk amid a clutter of paper coffee cups and file folders. Suddenly, a shadow falls across the desk...
Looking up, all that he can see is the shapely silhouette of a woman, leaning against the door jamb. The light of the hallway outlines well-dressed curves that suddenly move toward him.
Rising quickly from his chair, files and coffee cups tumble to the floor. The figure in the doorway rushes to help him pick things up, and there, in the soft glow of the desk lamp, their eyes meet.
Almost immediately, she ducks her head, giving the detective nothing to see but the feather on the top of her hat.
"That's a nice hat," he says. "Bet you could keep a lot of secrets under it, if you wanted to."
"But I don't," she replies, looking away. "I need your help in finding my, um, husband. And I've heard I can trust you."
"You have, eh? How do you know?" the detective grumbles.
"A lady knows," she answers, putting her hand on his arm. "Just the way I know that my husband couldn't have—just couldn't have—run off with something that I hold most valuable..."