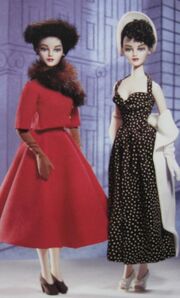 A Woman for All Seasons
is a set of two outfits for
Madra Lord
.
SKU: 38288
Released: 2001
Circa: 1957
Designer: Jim Howard
Company: Ashton Drake
Price: $79.95
Story Card
Edit
"MAAAAAAAAADRAAAAAAA!"
Monolithic Pictures Star Madra Lord was in Beverly Hills, doing a little shopping when she heard the shrieks that told her autograph hounds were on her trail.  "Bobbysoxers at one o'clock," she muttered to herself.  "Drat!"--and she ducked into a small boutique with a simple sign on the door: "Mr Howard/Couturier".
Hearing the door slam, Mr Howard, couturier, turned around.  He squinted, as the light pouring through the glass door silhouetted Madra.  Mr Howard gasped.  "My dear," he cried, "you are a perfect figure to dress!  Will you indulge me?"  At Madra's nod, he began.
"I should duck out on my fans more often," thought Madra, as Mr Howard's tape measure flew around her.
"I'll have them delivered to your home, Miss...?"  Madra handed him her calling card, and Mr Howard reddened.  "Oh, dear Lord, Miss Heavens!  I mean, well, you know what I mean.  I should have recognized you!  Will you ever forgive me?"
"Only if you forgive me for not finding your boutique sooner," cooed Madra.  "I can't wait to see the final results.  By next week, please."
A week to the day later, the boxes appeared on Madra's doorstep.  Eagerly, Madra tore through the brown paper wrapping and ripped open the box covers.  Inside one, a beautiful red suit, trimmed in fur with the most charming hat; and in the other, a sleeveless and seductive halter dress in brown--both perfect fits and fitting for each season--and an extra surprise: costume sketches of each outfit, signed by Mr Howard himself!
Ad blocker interference detected!
Wikia is a free-to-use site that makes money from advertising. We have a modified experience for viewers using ad blockers

Wikia is not accessible if you've made further modifications. Remove the custom ad blocker rule(s) and the page will load as expected.