After Hours is a Trent doll in a smoking jacket.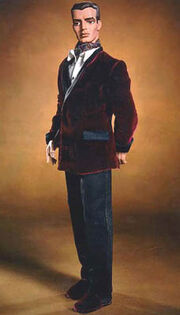 SKU: 38264
Released: 2001
Retired: 2002
Circa: 1938
Designer: José Ferrand
Company: Ashton Drake
Price: $110.00
Story Card
Edit
Ahhhhhhhhh—what comfort...
My latest picture has finally wrapped (coming soon to a theater near you), and it's time for me to relax before shooting starts on the next.
Time to get out the slippers and pipe and do the "master of the house" routine. Pad around the homestead, have a little toddy for the body—and a guest for dinner—without having to bother about getting to the studio at five o'clock in the morning for makeup call. No lines to learn; no diet to follow—just sit around and watch my moustache grow back!
Do you see this jacket? I got it as a gift from the studio. What workmanship! I wore it in a picture I did—one of those mistaken identity screwball comedies where a regular sort of guy gets thrown in with the drawing room set and proceeds to set everyone on their ears (all for their betterment, naturally—and, of course, I get the girl in the end!). This smoking jacket was just too wonderfully comfortable (and good looking) to put back into the costume archives—so I convinced Monolithic to make a "permanent loan" of it into my good care. But just let 'em try to borrow it back...!
Now, if you'll excuse me, I hear the doorbell. Did I mention that I gave the staff the night off—and that means that I must personally greet my lovely dinner guest one-on-one—but isn't that the way it should be?
Ad blocker interference detected!
Wikia is a free-to-use site that makes money from advertising. We have a modified experience for viewers using ad blockers

Wikia is not accessible if you've made further modifications. Remove the custom ad blocker rule(s) and the page will load as expected.