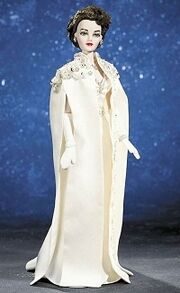 All About Eve
shows
Madra Lord
at a party as Anne Baxter.
SKU: 38272
Released: 2001
Circa: 1955
Company: Ashton Drake
Price: $125.00
Story Card
Edit
To celebrate their twentieth anniversary, 20th Century Fox decided to have a party to end all parties, inviting Hollywood to attend wearing their favorite Fox costumes.  Knowing their stars would be eager to attend, Monolithic arranged to borrow some prints of some of 20th Century Fox's biggest hits.  There, in a private screening room on the Monolithic lot, Monolithic's best and brightest huddled in the darkness, costume department personnel close at hand.
Madra Lord had a notebook on her lap, busily jotting down notes.  But when the projectionist started unspooling All About Eve, she sat bolt upright.
"Fasten your seatbelts--it's going to be a bumpy night!" she cried.
"Ah," said the wardrobe mistress.  "One of Margo Channing's gowns, eh, Miss Lord?"
"What?  No, no--I tested for that role.  I didn't get it.  But there's no hard feelings..." Madra said, clenching her jaw.  "I think I'd rather wear Eve's Sarah Siddons Award outfit--you know, the one with the coat..."
The wardrobe mistress' eyes were glued to the screen, making notes when Madra said...
"It will be quite a departure.  Other than the fact that we both come from Milwaukee, there's nothing about that conniving little witch Eve that even REMOTELY resembles me!"
And the wardrobe mistress choked back a laugh...
Ad blocker interference detected!
Wikia is a free-to-use site that makes money from advertising. We have a modified experience for viewers using ad blockers

Wikia is not accessible if you've made further modifications. Remove the custom ad blocker rule(s) and the page will load as expected.