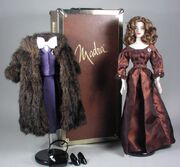 All About Eve Screen Test trunk set came with a Madra doll, fur coat and two fashion.
SKU: 76328
Released: 2002
Edition: 1,000
Circa: 1950
Designer: Edith Head
Company: Ashton Drake
Price: $395.00
Story Card
Edit
All Hollywood could sense that there was something special about All About Eve from the minute the projectwas announced by 20th Century-Fox. And when The Star had to bow out due to an accident, Madra Lord wasCONVINCED that she was destined to play the part of Margo Channing—after all, hadn't she been upstaged by an up-and-coming young actress nearly ten years before at the premiere of her film Deep Devotion? And hadn't that same young starlet gotten a big break when Madra herself had had to bow out of the lead in Blonde Lace due to an accident? So off Madra went to 20th Century-Fox on a bright, sunny day. It took a minute or two (and lots of foot tapping by Madra) for the guard at the gate to find her name on his clipboard, but soon her limo was rolling through the 20th Century-Fox lot, on her way to the cavernous soundstage where Madra's test was to be shot.
In Wardrobe, the wardrobe mistress opened a trunk with Madra's name carefully stenciled on the front. "Here you go, Dearie," said the wardrobe mistress. "These are the two outfits you'll need for your test. Start with the cocktail dress, then the suit—and be sure to take along the coat…"
With the help of two costume assistants, Madra slipped into her screen test wardrobe: first, a sleek number for Margo's birthday party for Bill (Madra particularly loved snapping out the "Fasten your belts—it's going to be a bumpy night!" line); then an outfit (the one with the mink) that wore for a scene in the theater lobby at Miss Casswell's audition.
As a token of their appreciation, 20th Century-Fox sent Madra her personalized trunk (and the costumes) by messenger the next day. What she DIDN'T receive was the part. In a lovely letter, the studio explained that, while Madra's test had been brilliant, the director just had another vision of the character of Margo.
"Well," thought Madra as she put the letter aside with a resigned flourish. "At least I got to keep the trunk and the clothes—and the mink…" Then she sighed and picked up a pen and a piece of her personalized stationery to jot yet another nice "Thank You For The Opportunity" note to the heads of 20th Century-Fox. Maybe next time…
Ad blocker interference detected!
Wikia is a free-to-use site that makes money from advertising. We have a modified experience for viewers using ad blockers

Wikia is not accessible if you've made further modifications. Remove the custom ad blocker rule(s) and the page will load as expected.