An American Countess shows Gene Marshall in the film Royal Rebel.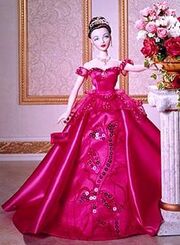 SKU: 76082
Released: 1999
Edition: 1000 Parkwest/NALED
Circa: 1952
Designer: Christine D. Curtis
Company: Ashton Drake
Price: $99.95
Story Card
Edit
Critics raved.  "Gene Marshall has done it again.  In Royal Rebel, Miss Marshall not only dances like a dream, sings like an angel, and handles comedy like a seasoned pro--she acts up a storm and makes us believe every moment.  What a TALENT!"
In 1952's Royal Rebel, the tale of a Broadway star who marries "above her station"--the down-to-earth heir to the throne of a small duchy--Gene shone like the diamonds in her tiara.
At first, the citizens of the land rebuff Gene as an American gold-digger; her carefree ways bring nothing but sneering and scorn.  Only the palace servants accept her, as mistress of the castle and as a friend.
With American pluckiness (and the servants' help), Gene concocts a plan.  On the last evening of the annual Harvest Festival, Gene suddenly appears at the top of the castle's curving staircase.  A gasp rises among the revelers: not only is Gene wearing the dress worn by the duchy's beloved Countess Cornelia many years before, she's wearing the jewels presented to Cornelia on an American goodwill tour.
As she descends the staircase, Gene begins singing "A Promise for Tomorrow"--a song from her most popular Broadway show.  Touched by the inspiring lyrics and the heartfelt emotions behind them, the citizens realize she truly cares about her adopted country.  And, one by one, they bow to their beloved new countess.