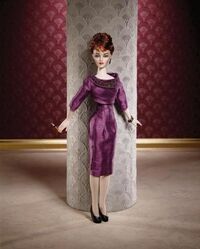 Anything but Nice
is an outfit worn by
Madra Lord
to a party.
SKU: 38263
Released: 2001
Circa: 1957
Designer: George Sarofeen
Company: Ashton-Drake
Retail: $59.95
Purple "silk" cocktail sheath and embroidered bolero jacket.
Accessories
Edit
Gold cigarette holder with lit cigarette, hosiery.
Black "leather" pumps.
Purple bead dangle earrings and necklace.
Description
Edit
At a party, Madra is about to do an impression of a famous actress, when guess who shows up! All done up in purple dupioni, Madra wears a tailored shift-style dress with thin straps-and a midriff-length top with a purple and green beaded pattern across the cowl neckline and a black and silver beaded decoration on the back. "Anything But Nice" comes with Madra's cigarette holder!
Story Card
Edit
1957.  The party was in full swing--and Madra Lord was holding court, as usual.
Surrounded by a phalanx of admirers and friends, Madra was at her best, regaling the group with stories of her days as an extra in the silents at the end of the era ("...the VERY end, of course, my dears--I mean, I played the BABY Miss Lillian carried from ice floe to ice floe in that one melodrama...") to the early days of talkies ("...some of the GREATEST stars had some of the WORST voices, don't you know--we should have called them 'the SQUAWKIES'...").
As the evening went on, the conversation turned to the stars of the day.
Madra's eyes glinted mischievously.  "Welllllll..." she began.  "I'm NOT going to name names, but there's a parTICular little star who is just too good to be true.  And the hard part to fathom is that she IS truly good.  And, I'll admit, an excellent actress to boot.  But sometimes, don't you just WANT to give her a little boot in the rear when she comes up behind you and says..."
With that, Madra handed her cigarette holder to the person next to her, put on her sweetest face, took a breath, and was just about to start her impression when, from behind her, she heard...
"Hello, Madra!  It's so good to see you.  Oh, please, please, don't let me interrupt--you were just about to do an impression or something...?"
And Madra snatched back her cigarette holder and took a long, slow drag before she turned and said, "Oh.  Never mind.  Hello, Gene.  Fancy seeing you here..."
Ad blocker interference detected!
Wikia is a free-to-use site that makes money from advertising. We have a modified experience for viewers using ad blockers

Wikia is not accessible if you've made further modifications. Remove the custom ad blocker rule(s) and the page will load as expected.