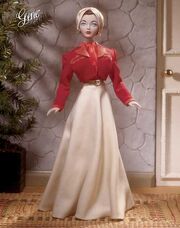 Après Ski
shows
Gene Marshall
at a ski chalet.  This doll came with "scrapbook pages".
SKU: 92435
Released: 2004
Edition:
Circa: 1948
Designer: Tim Kennedy
Company: Ashton Drake
Price: $125.00
Story Card
Edit
What luck!  While on location in Italy, work on the film Montage was going so well that the producer declared a week-long break.  And Gene was ebullient!  And after a quick spin through the fashionable boutiques (and the good sporting good shops), Gene was ready to hit the slopes.  So off she went to St Moritz...
After finding lodging in a quaint little chalet, Gene devoted her days to the local ski runs.  Then, refreshed and exhausted, she would return to the chalet, enjoying steaming mugs of hot chocolate with the sweet Swiss couple who ran the little bed and breakfast.
One evening, warm from her bath, her hair tucked into a turban and dressed in a new ensemble just made for the fireside, she made her way to the chalet's common room, with its roaring fire in the fireplace and the comfortable couches.  But when she reached the foot of the staircase, her hostess was there, waiting for her with a huge smile.
"Ach, Fraulein Marshall!  Du bist sehr schoen!  I mean, oh, so lovely are you.  You must know that your guest has arrived..."
Gene looked puzzled.  "My guest?"  And she followed her hostess' gaze to the couch nearest the fire, where the back of a familiar head--blond, but familiar--was comfortably nestled on a pillow.  Mustering her best exasperated tone, Gene sighed, "Trent!  How ever did you find me here...?"
Ad blocker interference detected!
Wikia is a free-to-use site that makes money from advertising. We have a modified experience for viewers using ad blockers

Wikia is not accessible if you've made further modifications. Remove the custom ad blocker rule(s) and the page will load as expected.