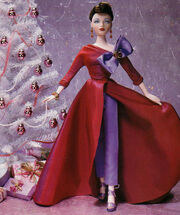 At Home for the Holidays
is an outfit worn by
Gene Marshall
for a Christmas television special.
SKU: 76084
Released: 1999
Edition: Dealer's exclusive
Circa: 1957
Designer: Tim Kennedy
Company: Ashton Drake
Price: $49.95
Story Card
Edit
Last year's holiday special (and Gene's television debut) came to you in compatible color from NBS studios in New York; this holiday, travel to sunny California as Gene Marshall invites the country to join her "At Home for the Holidays".
If you can't be with your family over the holidays, why not have the next best thing?  The cast and crew from NBS' "Holiday Magic" became a second family to Gene during the creation of last year's special.  Now, most of them have flown to the West Coast to work on what may become an annual Gene Marshall holiday event.
Once again, colorful costumes make this television spectacular a feast for the eyes as well as the ears.  Gene's finale costume alone should spark a boost in color television scales across the land.
As cameras, lights, and sound equipment fill her home, Gene plans a few surprises to make this holiday one that will always be remembered.  Always thoughtful, Gene has taken special care to put up the fashionable white flocked Christmas tree given to her by the producer and the crew the year before.  And as the final notes of the final song fade over the airwaves, Gene steps away from the tree--revealing hand-picked, hand-wrapped presents for each member of the cast and crew.
Every day's a holiday when you're a friend of Gene Marshall's!