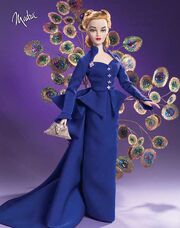 Azure Elegance
shows
Madra Lord
hosting the
tenth anniversary
tribute to
Gene Marshall
.
SKU:
Released: 2005
Edition:
Circa: 1951
Designer: Lynne Day
Company: Ashton Drake
Price:
Story Card
Edit
"You're the one who has to do it, darling..."
Benny Majors was sitting with Madra Lord by her pool, watching her as intently as Madra was watching the poolboy.
"I know," said Madra.  "He'll never have the guts to ask me out, so I'll just have to ask HIM..."
"No, no--I mean to host the tenth anniversary Gene Marshall tribute.  Reuben Lilienthal has PERSONALLY requested you for the job."
At the name "Lilienthal", Madra's head snapped back to the conversation.  "R.L. did?  Well, for him, I suppose I can swallow my pride and let bygones go bye-bye for one night.  Has it really been ten years since dear Gene stole my thunder at the opening of Deep Devotion?"
"Yes--and you don't look a day older, my pet," smiled Benny, all the while thinking, "Days, no; years, maybe..."
"Ten years--a lot of water under the dam and over the bridge.  Well, Gene and I have had some fun together.  Would I get to sing or dance or anything?"
Benny gulped quietly.  "Madra, you wouldn't want to overshadow Gene--after all, it is her night.  Save that for your 25th anniversary tribute--that's coming up soon, isn't it?"
"Bite your tongue, Benny.  An actress is as old as she feels and that depends on who she's 'appearing' with.  Hmmm--I know the perfect gown.  I've been saving it for a special occasion.  It's an elegant blue and fit for royalty.  Maybe I can model it for that Prince Charming poolboy and ask HIM what he thinks of the color..."
Ad blocker interference detected!
Wikia is a free-to-use site that makes money from advertising. We have a modified experience for viewers using ad blockers

Wikia is not accessible if you've made further modifications. Remove the custom ad blocker rule(s) and the page will load as expected.