Belle of the Ball
shows
Gene Marshall
in the film
Wildcat Woman
. 2001 convention doll.
SKU: 76049
Released: 2001
Edition: 300
Designer: José Ferrand
Company: Ashton Drake
Price: $169.00 Part of convention package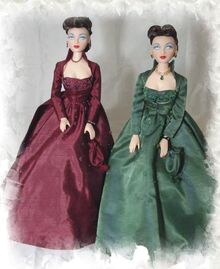 GREEN VERSION (Helper Doll)
SKU: 76160
Released: 2001
Edition: 300
Designer: José Ferrand
Company: Ashton Drake
Price: $189.00
Story Card
Edit
"Oily to bed and oily to rise, makes a girl wealthy."
That was the motto of Tulsa Thompson in Gene's film Wildcat Woman.  In it, Gene played a rough-and-tumble wildcatter, out to bring in a gusher on her late father's Oklahoma oil field.
Gene spent most of the picture covered with dust and oil--and out of reach of her foreman Bill.  "I don't have time for love, Bill--not 'til I hit that gusher and get invited to the Oil Baron's Ball!" Tulsa would sigh each time a clinch would loom on the horizon.  And with just as big a sigh, Bill would dust off his hands and follow her back to the rig.
Then, just as Tulsa was about to give up--a gusher.  And as barrel after barrel of pure Oklahoma crude left the oil field, a refined invitation arrived, requesting her presence at the annual Oil Baron's Ball.
The big night arrived.  And, as Tulsa made her grand entrance dressed to the nines and on Bill's arm (looking mighty uncomfortable in a tuxedo and cowboy boots), Mr Flannery, the oldest of the wildcatters and the unofficial spokesman for the Oil Barons, held up his hands to silence the gleeful crowd--and a hush fell over the room.
"This is the first time any gal--forgive me, any LADY--has been the guest of honor at our Oil Baron's Ball.  Welcome, Baroness Tulsa!"
And with that, the entire ballroom burst into cheers and applause, as Tulsa wrapped her arms around Bill and held on for good!
Ad blocker interference detected!
Wikia is a free-to-use site that makes money from advertising. We have a modified experience for viewers using ad blockers

Wikia is not accessible if you've made further modifications. Remove the custom ad blocker rule(s) and the page will load as expected.