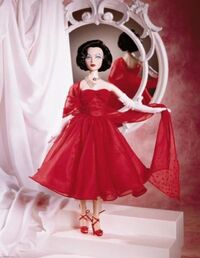 Best Bet
shows
Gene Marshall
at a party.
SKU: 76479
Released: 2002
Circa: 1955
Designer: Sylvia Gallen
Company: Ashton Drake
Retail: ???
Gene doll with dark brown, side-parted hair. Styled in chin-length waves. Red lips, grey eyeshadow.
Red chiffon strapless dress with attached stole/wrap.
Accessories
Edit
Red knee length petticoat, white opera-length gloves.
Red beaded ribbon tie heels.
Beaded star choker, rhinestone stud earrings.
Description
Edit
Here Gene is guest roulette croupier at a charity Monte Carlo night. This year's Annual Edition Gene will have the darkest hair Gene has ever had - plus a beauty mark on her left cheek. Gene's fiery red gown is complemented by a stunning shooting star crystal necklace.
Story Card
Edit
The Monte Carlo Ball was in full swing—but all bets were off when Gene came through the door!
The Monte Carlo Ball was held once a year for charity, raising thousands of dollars for good causes by holding a night of "gambling" in a Hollywood-sized casino. People came from all over to share the fun as famous stars doubled as blackjack dealers, croupiers, cocktail waitresses and waiters—and the inevitable casino "bouncer" (usually played by a star popular for his meek roles).
This year, Gene had been chosen to be one of the croupiers at the roulette table—a fact that had been utmost in her mind as she chose her gown for the gala occasion.
And as she came through the door, men gasped as women grasped their dates' arms. For there was Gene in a blazing red cocktail gown, her hair inky black (and with a black beauty mark daintily and daringly placed on her left cheek). Red and black—just like the roulette wheel she was manning that evening.
The room burst into spontaneous applause as Gene made her way to the roulette table (with the diminutive bouncer clearing the way). Players left their baccarat games, keno balls stopped bouncing, and poker hands were thrown in as the crowd gathered around the spinning wheel—and Gene started spinning her spiel to the eager betters.
"Place your best bets, ladies and gentlemen," crooned Gene, as her shooting star necklace glittered like the eager light dancing in her eyes. "And might I suggest you bet big—all for a good cause, of course!"
Ad blocker interference detected!
Wikia is a free-to-use site that makes money from advertising. We have a modified experience for viewers using ad blockers

Wikia is not accessible if you've made further modifications. Remove the custom ad blocker rule(s) and the page will load as expected.