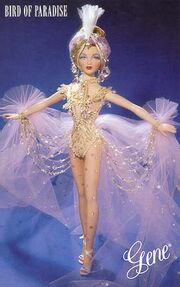 Bird of Paradise
shows
Gene Marshall
in
the film of the same name
.
SKU: 94397
Released: 1997
Retired: 1999
Circa: 1949
Designer: William Ivey Long
Company: Ashton Drake
Price: $79.95
Story Card
Edit
Beautiful showgirls are a dime a dozen in Hollywood.  Dressed in fantastical costumes of spangles and glitter, together they are a dizzying dazzle of lookalikes.  And each and every one of them cherishes a dream of discovery and stardom.
But Bird of Paradise is a script about a showgirl who didn't want to be discovered.  It was this uniquely whimsical twist that charmed Gene about this light romantic comedy.
In the script, a famous director treats showgirls with contempt--if he notices them at all.  When he meets Gene at the commissary he believes her to be a respected scriptwriter and is enchanted by her pretty face, lively wit, and warm heart.  But Gene is actually a showgirl in his own show and fears losing him if he learns the truth.  Meanwhile, the leading man wants Gene to be the "spotlight girl", the one the camera focuses on at the start of the spectacle.  A hilarious cat-and-mouse chase ensues on stage as Gene tries to avoid the pursuing spotlight so her love won't notice her.
Suddenly she's caught in the brilliant spotlight, the crystal beads flashing in a dazzling rainbow of light.  Like the wings of a fairytale bird, triple-beaded swags of crystal and a misty cloud of pink tulle sweep from waist to wrist.  Crystal drops glisten on the shimmering feathered turban.  At the lavish finale, the director has learned a valuable lesson: that under all the fancy plumage, a bird of paradise can be the sweetest, most loving songbird of all.