Black Calla is a complete fashion from the Studio Wardrobe™ Collection. It is pictured on a prototype Madra - a Caucasian version of Golden Riviera or a blonde Postcards from Cannes?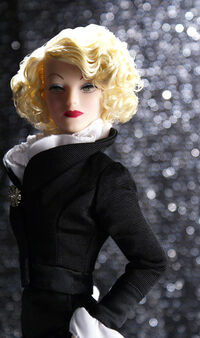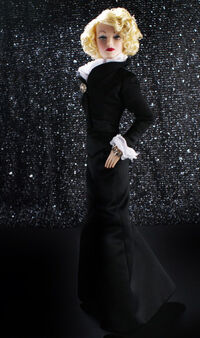 SKU: 92044
Released: 2008
Edition: 250
Circa: 1930s
Inspiration:
Company: Integrity Toys
Retail:
Black satin column skirt with train, white georgette blouse with ruffled collar and cuffs, topped by a black fitted faille jacket with satin cuffs,.
Accessories
Edit
Lavendar satin turban wrapped in deep blue lace with floral trim, midnight sating clutch.
Black jeweled-vamp pumps.
"Diamond" brooch, "diamond" bracelet, "diamond" earrings, "diamond" hair clip.
Description
Edit
Black Calla is a dramatic 1930s' evening suit, long and lean like the sculptural blossom that is its namesake. The fitted jacket is cut of black faille and finished with satin cuffs and tapered waistband. The skirt is a form-fitting column of black satin, tapered through the thighs and flared into an inky black train. A sparkling white georgette blouse is long-sleeved with ruffles at the cuffs and collar, looking like nothing so much as bouquets of calla lilies. This lavishly ruffled neckline rests upon the circular faille lapels of the trim top. A "diamond" broach is worn at the bodice and matches the glittering earrings and hair clip. Black pumps, trimmed at the toes with jewels, are the finishing touch to Black Calla's ultra-sleek sophistication.
Script / Star File
Edit
Ad blocker interference detected!
Wikia is a free-to-use site that makes money from advertising. We have a modified experience for viewers using ad blockers

Wikia is not accessible if you've made further modifications. Remove the custom ad blocker rule(s) and the page will load as expected.