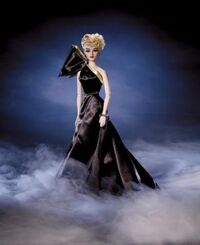 Black Ice
shows
Madra
in
the film of the same name
.
SKU: 38276
Released: 2001
Circa: 1938
Designer: Tim Kennedy
Company: Ashton-Drake
Retail: $99.95
Madra doll with light blonde hair. Red lips, brown eyeshadow.
Black "silk" evening gown with stripe of chartreuse satin stripe draping into an asymmetrical tie shoulder.
Accessories
Edit
n/a
Black ribbon tie shoes.
"Diamond" teardrop earrings, black and clear bead bracelet.
Story Card
1938.  "Dark and cold, pretty to look at, but if you're not careful, she'll make you lose control!"  Word was out that Madra Lord had another hit on her hands, this time playing a good girl going bad--or was it the other way around?  Audiences delighted in seeing her plunked in the middle of a moral dilemma (secretly wishing that THEY were the ones with the monumental decision).
In Black Ice, Madra played an irrepressible (and somewhat irresponsible) rich girl.  On a buying spree, she encounters not only an incredible jewel (the fabled Black Ice diamond) but also a handsome jeweler.  Playing coy about her plans on buying the Black Ice ("Maybe I will; maybe I won't--maybe it all depends on how you sell it..."), the jeweler wines and dines her.
Love appears to be in the air, until Madra tries to force a proposal from the jeweler and he blurts a confession: he has a wife--and a young son in desperate need of an operation.  But he is so taken by Madra that he's willing to leave his family for her love.  In a noble act of self-restraint, Madra sends the jeweler away, back to his loving family.
The next day, the Black Ice is purchased by an anonymous buyer--leaving the jeweler enough to pay for his son's operation.  And the Black Ice itself is mysteriously delivered to the jeweler's wife with a note: "Hold on to this tightly--but not as tightly as you hold on to your man."  And the last thing we see is Madra at a party in a cloud of black taffeta with a laugh on her lips--and the hint of a tear in her eye.
Ad blocker interference detected!
Wikia is a free-to-use site that makes money from advertising. We have a modified experience for viewers using ad blockers

Wikia is not accessible if you've made further modifications. Remove the custom ad blocker rule(s) and the page will load as expected.