Black Ribbon is an outfit worn by Gene Marshall in the film of the same name.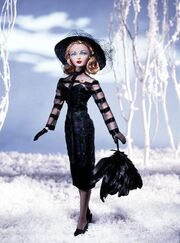 SKU: 76088
Released: 1999
Retired: 2001
Circa: 1942
Designer: Tim Kennedy
Company: Ashton Drake
Price: $59.95
Story Card
Edit
Playing the part of Gilda Webster in THE BLACK RIBBON, a young widow who suddenly learns he beloved husband Paul has left her penniless, was a breakthrough for Gene. Portraying a slightly older woman in a role that called for her to run the gamut of emotions proved to fans -- and critics -- that she had what it took to be among the most revered stars of the silver screen. So much so, that she was awarded a Golden Star Award as Best Actress for THE BLACK RIBBON. In the film, after hearing the news of her financial state, a distraught Gilda falls into a fitful sleep. She dreams that she is dressed in black, running through a cemetery. Everywhere she turns, darkness crosses her path. Suddenly -- a light! As she hurries toward it, she hears a voice calling to her, It sounds uncannily like Jeremy Watts, the handsome young attorney handling her probate case. Onward she runs, until she breaks into the sunlight. There is Jeremy, standing with arms outstretched. Blindly, Glinda runs into their protecting embrace as bells start to ring... Bells ringing -- the phone! As she lifts the receiver, a familiar voice is heard. It's Jeremy, calling with the news that the Times-Journal is looking for a fashion writer. Would Gilda mind if he made her an appointment with the editor...? And the sun indeed begins to shine once again in Gilda's life.