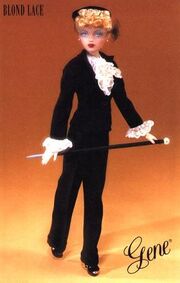 Blond Lace depicts an outfit worn by Gene Marshall in the film Blonde Lace.
SKU: 96404
Released: 1995
Retired: 1998
Circa: 1941
Designer: Tim Kennedy
Company: Ashton Drake
Price: $29.95
Story Card
Edit
A new face has caught the light that only stars reflect...a rare light indeed.  It shines on a young actress named Gene Marshall.  She's the good-hearted cigarette girl in Blonde Lace, producer Erik von Sternberg's newest film from Monolithic.  This once small role was reworked at the eleventh hour when the original star suffered an injury.  Miss Marshall, dressed in the most feminine of tuxedos, does a dance number on the film's nightclub stage with an easy grace, a lilting glance, and a few breathy words guaranteed to break hearts from here to Poughkeepsie!
Blond Lace is a chic tuxedo with tailored jacket, slacks, and lace-trimmed halter top.  Lace cuffs, a black velvet beret, and a tiny boutonniere complete the ensemble.  With matching shoes and a "pearl" topped cane.  Circa 1941.
In your very first Hollywood film, you want to establish a screen personality that makes you stand out, an image that people will carry with them long after they leave the theater!  One fabulous way to do just that is to appear in man-tailored clothing, which has an uncanny way of making a beautiful woman appear even more feminine and elegant than in a lavish gown.
For Gene, the one costume that gives her genuine star quality is Blond Lace, a tuxedo she wears in her first small role as a hatcheck girl.  Gene has only a few lines...but her radiant beauty, set off by the dashing black velvet beret and touches of ivory lace, make an unforgettable impression.  As the credits scroll up at the end of the film, people strain to read the small print, looking for the name of the "unknown" starlet who played that stunning hatcheck girl...and Gene is on her way to becoming a full-fledged star!
Gene's three-piece tuxedo is tailored of black crepe; the ivory halter top has an attached jabot of extravagant lace.  Matching lace appears at the cuffs of the jacket, and a "gardenia" pin on the lapel adds a dashing touch.  And is that a gentleman's cane she holds as their eyes meet briefly, yet significantly, across the checkroom counter?