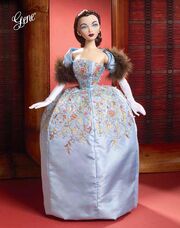 Blue Belle
shows
Gene Marshall
at the unveiling of a flower named for her.
SKU:
Released: 2005
Edition:
Designer: Dean LaSasso
Company: Ashton Drake
Price: $150.00
Story Card
Edit
"Gemstalk Greenhouses, exclusive florists to the stars, calling for Miss Gene Marshall.  Miss Marshall, will you hold for Miss Gemstalk?"
What in the world could Miss Gemstalk want?  Gene scowled slightly.  It had been years since Gene had all but stolen the show (unintentionally) at the unveiling of a new and fascinating blossom at Gemstalk Greenhouses with her "Pinque" ensemble.  Suddenly, the crisp voice of Miss Gemstalk popped into Gene's ear.
"Miss Marshall?  Greta Gemstalk here.  Let me nip this in the bud.  How would you like to have one of our flowers named for you?"
"Seriously?  I would be touched, honored, enthralled, and terribly flattered."
"Good!"  Miss Gemstalk's voice was then filled with the enthusiasm of an artist eager to display her work.  "We've developed a bell-shaped blossom that is the most delightful shade of blue..."
Gene jotted down all the details, then hopped in her car and headed over to the House of LaSasso.  As she sat with the designers, a dress began to take shape that would not only do tribute to a new blossom, but also to the beautiful flower wearing it.
The night of the unveiling soon arrived.  And there, in the misty atmosphere of the Gemstalk Greenhouses, Gene, dressed in delicate blue, unveiled the new "Gene Marshall Bluebell" to the world.  And by the end of the season, it was the flower featured in ALL the most fashionable bouquets across the country.
Ad blocker interference detected!
Wikia is a free-to-use site that makes money from advertising. We have a modified experience for viewers using ad blockers

Wikia is not accessible if you've made further modifications. Remove the custom ad blocker rule(s) and the page will load as expected.