Blue Fox
shows
Gene
at a concert.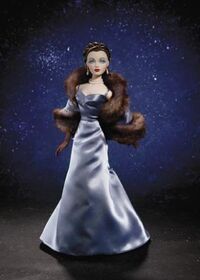 SKU: 38259
Released: 2001
Circa: 1949
Edition: 800
Designer: Tim Kennedy
Inspiration: Mainbocher
Company: Ashton Drake
Retail: $89.95
Description
Edit
Gene makes the town twinkle in this gown of periwinkle. Dressed in "fox," she gets wolf whistles galore! A light blue satin evening gown, the fitted bodice has a V-shaped pleat at the sweetheart neckline. The full-length skirt has a delightful drape that allows sweeping movement.
Story Card
Edit
Gene pulled her fox-lined wrap a little closer around her shoulders, as the night air had taken on a bit of a chill. The concert had just ended at Symphony Hall, and in the darkness of the evening, the stars flickered in time to the remembered strain of a Strauss waltz the orchestra had played.
As she waited at the curb for the valet to bring her car, Gene began to unconsciously hum the lush waltz tune to herself.  Soon she was floating on a cloud of blue over the "Blue Danube" itself, gloved hands folded at her cheek, slightly swaying to the music as her mood soared.
Then she heard it.
A low "wolf whistle" cut into her periwinkle dreams.  Reddening slightly, she looked up--and there, winking, was Trent Osborn, his lips still pursed in mid-whistle.
"Gene Marshall--you know you should never wear fox when there are wolves on every Hollywood corner," he chortled.
"Shame on you, Trent," Gene laughed.  "Were you at the concert tonight?"
"Assuredly," answered Trent.  "And now I'm in need of a ride home--how's about it?"
"Direct to your door and no farther," replied Gene.  "Remember.  I'm wearing fox--and I'm as smart as one, too!"
Ad blocker interference detected!
Wikia is a free-to-use site that makes money from advertising. We have a modified experience for viewers using ad blockers

Wikia is not accessible if you've made further modifications. Remove the custom ad blocker rule(s) and the page will load as expected.