Blue Heaven is an outfit worn by Gene Marshall in the film Little Blessings.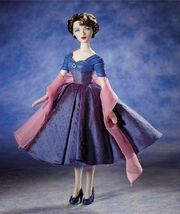 SKU: 38245
Released: 2001
Circa: 1951
Designer: Lynne Day
Company: Ashton Drake
Price: $44.95
Story Card
Edit
"You'll see a smiling face..."
The bandleader was crooning an old twenties tune as Gene made her screen entrance in the film Little Blessings: the story of a young couple, their marriage--and the conflict in Korea that tore them apart, only to bring them closer together in the end.  This was their first meeting.  She was a working girl, out on the town; he was a soldier, on leave.
The restaurant was a riot of noise and activity--but for the soldier, everything (except the song) stopped the moment she floated through the door, a heavenly vision in blue.  In an instant, he was at her side.
"I know we've never met," he said, "but I feel as if I've known you forever.  Would you bless me with your presence--and a dance?"
"It would be heaven!"  She smiled.  "I don't know anyone here and, before you asked me to dance, I was about to leave."
"Did I tell you that blue is my lucky color?" he said as he swept her onto the dance floor.
"What a blessing that I decided to wear this dress," she said.
"...And that the bandleader had the good taste to sing 'My Blue Heaven' just as you walked in.  My, our 'little blessings' are starting to pile up, aren't they?  Where will this all end?"
Just then, the song reached the "...And baby makes three..." part--and they both began to laugh as he pulled her into his embrace.
Ad blocker interference detected!
Wikia is a free-to-use site that makes money from advertising. We have a modified experience for viewers using ad blockers

Wikia is not accessible if you've made further modifications. Remove the custom ad blocker rule(s) and the page will load as expected.