Bonnie and Blithe is an outfit worn by Gene Marshall to the zoo.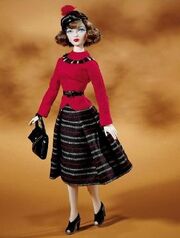 SKU: 96373
Released: 2001
Circa: 1951
Edition: 1000
Designer: Christine D. Curtis
Company: Ashton Drake
Price: $49.95
Story Card
Edit
"Let's go, Auntie Gene!"
Gene had offered to take a group of her friends' children to the zoo on a balmy fall Sunday--an event the youngsters had been looking forward to for weeks.  And now they were impatient to be on their way, knowing that "Auntie Gene" always planned the "most funnest" of trips!
So, armed with a map of the zoo, Gene gathered her troops and headed off to adventure.
When they arrived, Gene stopped inside the front gates.  "Where are we going first?" said one of the boys.
"I'll tell you what," smiled Gene.  "Let's make it into a game.  Each of you gets to pick one place to visit, but you can't just say where you want to go--you have to act like that animal and we all get to guess."
This idea suited the children well.  Riotous impersonations of everything from gorillas to goldfish kept everyone entertained for the entire morning.
Suddenly, the littlest youngster, Winnie, got down on all fours and began to growl.  "But Winnie, we've already seen the grizzlies..."  Gene looked befuddled.
"No, no," cried Winnie.  "I'm acting 'let's go to the cafeteria'--I'm as hungry as a bear!"
And everyone laughed as they headed for lunch.
Ad blocker interference detected!
Wikia is a free-to-use site that makes money from advertising. We have a modified experience for viewers using ad blockers

Wikia is not accessible if you've made further modifications. Remove the custom ad blocker rule(s) and the page will load as expected.