Breathless shows Gene Marshall at a party.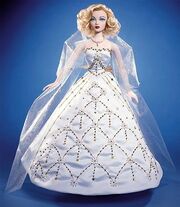 SKU: 76074
Released: 1999
Edition: Retailer's exclusive
Circa: 1956
Designer: Stephanie Bruner
Company: Ashton Drake
Price: $99.95
Story Card
Edit
It was one of those glorious California evenings that shimmered with magical electricity.  The Hollywood Roosevelt Hotel was ablaze with lights from dazzling crystal chandeliers, spotlights, flashbulbs, and the incandescent star-power of Hollywood's brightest luminaries celebrating mogul producer Erik von Sternberg's 55th birthday.
The cub reporter stood alone outside the front door, fiddling with his camera.  The flash hadn't worked all evening.  He nearly wept thinking about how furious his editor was going to be with no photos from the party of the year.  He might even lose his job!
A sleek, white limo purred up to the long, red-carpeted stairs.  As soon as it stopped, Gene Marshall stepped out and hurried up the stairs.  Suddenly all the magic of the night came alive.  Gene's celestial blue gown glimmered in the moonlight, softly reflecting on lustrous pearls, satin, and gleaming gold.  Her shawl floated behind her as diaphanous as a heavenly cloud swept with golden stars.  Her face lifted skyward and he caught his breath at such inexpressible beauty, luminous in the starlight.  He readied his camera and called, "How are you tonight, Miss Marshall?"  "Breathless!" she laughingly replied, kindly pausing to pose.  Miraculously, the flash popped!
"Breathless" was the morning edition's headling under her photo.  To that cub reporter, Gene was the angel who saved his career.