Bridge Club is an outfit worn by Gene Marshall in the film Bridge Club.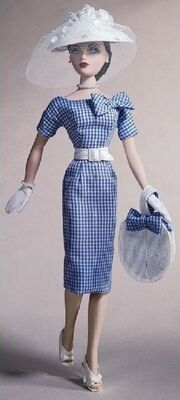 SKU: 76069
Released: 1999
Retired: 2002
Circa: 1954
Designer: Vince Nowell
Company: Ashton Drake
Price: $34.95
Story Card
Edit
1954's film Bridge Club brought Gene back to romantic comedy.  It was one of those frothy confections designed to brighten your mood and warm your heart.
In the film, Gene's mother's weekly bridge club is more interested in shuffling hearts than dealing cards.  When one of the players gets an "unexpected malady", Mother presses Gene into service to fill the empty chair.
With Gene as a captive audience, the mothers go to work.  It seems one of them has an available (and well-to-do) son who would be just perfect for Gene.  Could they set the date, um, set up a date?
Distracted by her bidding, Gene nods.  But beneath her picture hat, Gene's thoughts are drifting to the true man of her dreams--a talented (and not-so-well-to-do) writer.  As the mothers cluck their approval of Gene's acceptance, Gene seems to see her writer's face in every king she holds in her hand--and whose face is that on the queen of hearts...?
As an added treat to her film fans, Gene talked four of the '30s' favorite actresses out of retirement to play her mother and her three bridge-playing companions.  Gene's thoughtful gesture not only thrilled moviegoers--it restarted the careers of four very happy not-to-be-forgotten film stars.