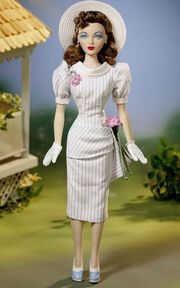 Brunch With Katie
is an outfit worn by
Gene Marshall
.
SKU: 38227
Released: 2001
Circa: 1942
Designer: Lynne Day
Company: Ashton Drake
Price: $44.95
Story Card
Edit
Gene Marshall had only been in Hollywood for a short time, but it seemed to her that Monolithic always had something new for her to do, from screen tests to interviews to ribbon cuttings to evenings on the town with high-profile escorts...it WAS exciting, and Gene was always eager to grant the studio any reasonable request.  So when she answered the phone, she expected it to be the studio asking her to add something to her schedule.  But instead she heard the crackle of long distance.
"Person-to-person for Kathryn Marshall..." twanged the operator.  Gene was flustered.
"This is me.  I mean I.  I mean I'm Gene Mar...um Kathryn."  A click--then her mother's voice came on the phone.
"Katie?  I'm so glad you're all right!  It's silly, but I had this very unsettling dream about you and Hollywood and I don't care what you say, you're my little girl and I'm coming out there on the next train..."
"Mother, what I'll say is I'm thrilled!  I can't wait to see you.  Wire me the details!"
Gene hung up the phone, excited, and started planning a visit that would ease her mother's fears.  First a look at Gene's new apartment, then a lovely long mother/daughter brunch.  Gene knew exactly what she was going to wear: that pretty blue and white striped dress with flowers.  The perfect outfit to show her mother that even though in public she was Gene Marshall: Girl Star--underneath, she was still just plain Katie, always mother's loving daughter.
Ad blocker interference detected!
Wikia is a free-to-use site that makes money from advertising. We have a modified experience for viewers using ad blockers

Wikia is not accessible if you've made further modifications. Remove the custom ad blocker rule(s) and the page will load as expected.