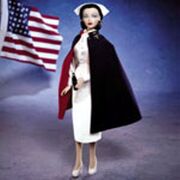 That Extra Something
shows
Gene Marshall
in a Coca-Cola calendar fashion show.
SKU: 93650
Released: 2002
Edition: 3000
Circa: 1943
Designer:
Company: Ashton Drake
Price:
Story Card
Edit
The United States was smack dab in the middle of WWII--and everyone was out to do their part.  So when Gene got a call from the local Coca-Cola bottler, she listened with interest.  Here was the proposition: the local Coca-Cola plant was setting up a fashion show based on the famous Coca-Cola calendars over the years, and the call was going out to famous film stars, asking them to bring their favorite pages to life.  Proceeds from the show would be used to benefit war relief funds.
It took Gene no more than the flip of a bottle cap to agree to be a part of this wonderful fundraiser.  And she knew exactly which calendar page she wanted to portray.  She'd seen it in the little grocery she frequented on La Cienaga, hanging right above the big red Coca-Cola cooler.  January/February 1943.  An Army nurse taking a break from her duties for a refreshing Coca-Cola break before returning to help those in need.
The night of the big show, star after star stepped to the end of the runway, much to the delight of the adoring crowd.  But when Gene appeared, dressed in her starched cap, white uniform, and military nurse's cape, there was a hush--then a tremendous cheer.  Gene stepped forward and held her Coca-Cola bottle high.  "A toast--to the angels of mercy who have That Extra Something: the power to heal and the determination never to quit!"
Ad blocker interference detected!
Wikia is a free-to-use site that makes money from advertising. We have a modified experience for viewers using ad blockers

Wikia is not accessible if you've made further modifications. Remove the custom ad blocker rule(s) and the page will load as expected.