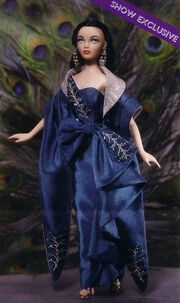 Caribbean Kiss shows Gene Marshall in an eyeshadow advertisement.  Caribbean Kiss is a colorswap of Coral Kiss.
SKU: 93817
Released: 2003
Edition: 750 (Retailer Show Exclusive Limited Edition)
Circa: 1955
Designer:
Company: Ashton Drake
Retail: $150.00
Gene doll with dark brown or black hair. Center part pulled back with shoulder length curls. Coral lips, grey eyeshadow.
Teal sheath dress with embroidered asymmetrical bodice.
Accessories
Edit
Teal draped stole with embroidery, hosiery.
Silver open-toed sandals.
Rhinestone drop earrings, hair ornaments.
Description
Edit
Gene ad for Coral Kiss Lipstick was such a smash, Mark of Beauty Cosmetics asks her to do a follow-up in shades of blue to match their new eye shadow. Includes a matching stole with Caribbean Blue bead and brocade, lined in silver tissue lamé, rhinestone earrings, hair ornaments, silver sandals, hosiery and custom stand.
Story Card
Edit
-
Ad blocker interference detected!
Wikia is a free-to-use site that makes money from advertising. We have a modified experience for viewers using ad blockers

Wikia is not accessible if you've made further modifications. Remove the custom ad blocker rule(s) and the page will load as expected.