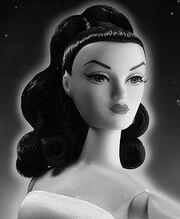 Oona is a fictional movie star of the mid-20th century and a character in the world of the Gene Marshall fashion doll collection.
Oona was introduced to the doll line in 2008, ending production in 2010 when the Gene Marshall product line was retired. Dressed dolls were produced solely by Integrity Toys.
Pages in category "Oona"
This category contains only the following page.
O
Ad blocker interference detected!
Wikia is a free-to-use site that makes money from advertising. We have a modified experience for viewers using ad blockers

Wikia is not accessible if you've made further modifications. Remove the custom ad blocker rule(s) and the page will load as expected.