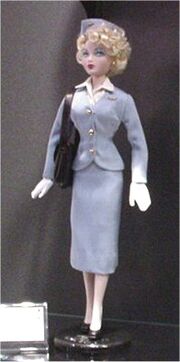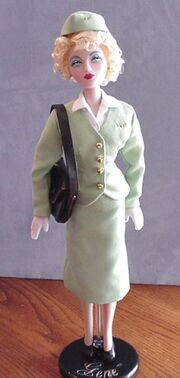 Champagne Flight
was a
Gene
outfit cut from the 2002 line.  250 blonde dolls in the suit were distributed at the Modern Doll Club convention, with a green version distributed as centerpieces.  A redheaded version in a beige suit was sold as an FAO Schwarz exclusive.
SKU: 93645 (blue)
76908 (beige)
Released: 2002
Edition: 250 (blue)
Edition: 25? (green)
Edition: 200 (beige)
Circa: 1952
Designer: George Sarofeen
Company: Ashton Drake
Price:
Story Card
Edit
1952's Somewhere Summer starred Gene in the story of a stewardess whose dreams flew high enough to reach the stars.
It all started in New York City on a flight layover.  The stewardess sat in the automat, leafing through an old copy of Posh Living magazine.  Suddenly, a voice roused her from her daydream: "Is this stool taken?"  She looked up, only to see a handsome stranger by her side--with incredible hazel eyes.  Moments after he'd put down his coffee and picked up the conversation, she knew she was in love.
The next day, flushed with the thrill of romance, the stewardess boarded the plane for L.A.  But when she stepped out to deliver her take-off speech, the cabin was empty--save for the handsome stranger with the hazel eyes.
"Where are the rest of my passengers?" she stammered.
"I bought all the seats so that I could be with you."  He smiled.
Just then the co-pilot stuck his head in.  "Everything okay, sir?"
"Just fine."  He turned to her.  "Perhaps I should introduce myself..."  And with that, he pulled the CURRENT copy of Posh Living from his briefcase--the one with his face on the cover.
She gasped, then smiled.  "I'd better get to work.  Beverage, sir?"
"How about champagne?"  With that, he pulled out a chilled bottle--and the bubbles carried them high above the clouds and beyond.
Ad blocker interference detected!
Wikia is a free-to-use site that makes money from advertising. We have a modified experience for viewers using ad blockers

Wikia is not accessible if you've made further modifications. Remove the custom ad blocker rule(s) and the page will load as expected.