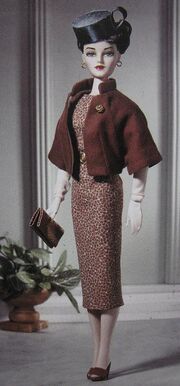 Chocolate Truffle
is an outfit worn by
Madra Lord
.
SKU: 38288
Released: 2001
Designer: Jim Howard
Company: Ashton Drake
Price: $59.95
Story Card
Edit
The little bell on the spring jingled merrily as the door opened to Etta's Confectionaries and Flowers.  Rumor had it that Etta's chocolates were so rich that just opening the lid of the heart-shaped box they were packed in added instantly to your avoirdupois.
The owner, a Miss Tiernan, looked up as she heard the bell--and came face to face with Madra Lord.  "Ahhh, Miss Lord," she cooed.  "So good to see you again.  How can we tease your sweet tooth today?"
Madra's eyes half-closed in a chocolate reverie as she spoke.  "Nothing for me, dear; I start shooting a new film Monday.  A hostess gift.  I'm on my way to a party.  Bring on the samples."  And with that, Madra proceeded to send her from case to case, coolly (but eagerly) sampling almost every truffle in the shop.  But, oddly, NOTHING seemed good enough for Madra's hostess!
The frazzled chocolatière suddenly smiled in triumph.  "What about this one?  Milk chocolate dusted in fine cocoa powder and topped with a little teal pastille--not unlike the lovely outfit you're wearing...?"
It was a flat-out try for Madra's vanity--and it worked.  Popping the proffered sample into her mouth, Madra smiled.  "My dear, you are truly brilliant!  This is a work of art!  I'll take a dozen."
"And the name of the hostess so that I may make out the gift card?" asked Miss Tiernan, sighing in relief.
"What hostess?  These are for ME for on the way!  Wrap her up a box of chocolate creams..."  And Madra settled back into her chair to enjoy the chocolate glow.
Ad blocker interference detected!
Wikia is a free-to-use site that makes money from advertising. We have a modified experience for viewers using ad blockers

Wikia is not accessible if you've made further modifications. Remove the custom ad blocker rule(s) and the page will load as expected.