Cocktail Hour
is a blue cocktail ensemble from the
Studio Wardrobe™ Collection
. It is picture on a
Tea Dance
Ivy.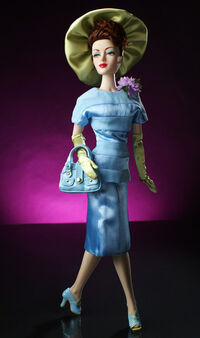 SKU: 92064
Released: 2008
Edition: 300
Circa: 1940's
Inspiration:
Company: Integrity Toys
Price: Part of convention package The Girls from Dream City convention exclusive - Gene Convention XIII, Orlando, Florida, 2008
Blue satin and chiffon tunic, blue satin and chiffon pencil skirt.
Accessories
Edit
Green satin hat, green satin elbow length gloves, blue "leather" handbag, purple floral corsage.
Two-toned open-toed pumps.
"Emerald" rhinestone earrings, "emerald" rhinestone bracelet.
Description
Edit
Cocktail Hour is a delicious blend of both color and texture. Alternating stripes of turquoise satin and chiffon define the short-sleeved tunic top above a matching, narrow, knee-length skirt. Accessories of the HOUR are elbow-length gloves and a matching broad-brimmed hat of draped chartreuse satin. Stylishly eccentric two-toned, open-toed pumps match a deliciously hardware laden, turquoise 'leather' handbag. "Emerald' earrings and bracelet add sparkle to this tempting mix with a corsage of lavender hibiscus to be worn where ever taste dictates.
Story/Star File
Edit
-
Ad blocker interference detected!
Wikia is a free-to-use site that makes money from advertising. We have a modified experience for viewers using ad blockers

Wikia is not accessible if you've made further modifications. Remove the custom ad blocker rule(s) and the page will load as expected.