Cognac Evening
is an outfit worn by
Gene Marshall
to a reception.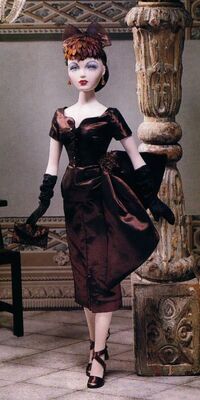 SKU: 76086
Released: 1999
Retired: 2002
Circa: 1951
Designer: José Ferrand
Company: Ashton Drake
Price: $44.95
Brown satin cocktail dress with beaded side sash.
Accessories
Edit
Black mid-length gloves, brown beaded clutch purse, teal crepe muff trimmed in faux fur, brown feather hat with bow.
Brown ribbon-tie shoes.
Topaz tear drop earrings with "diamond" studs, topaz rhinestone necklace.
Story Card
Edit
During visits back home in Cos Cob, Gene was always happy to accept an invitation to enjoy a reception at the governor's mansion.  As one of Connecticut's most famous "children", she relished the opportunity to sit with friends and catch up on events in her home state.
Tonight, resplendent on the arm of the state representative from her district, Gene once again proved the perfect guest: listening intently as the others spoke of their experiences adjusting to life in Connecticut since the War; regaling the party with stories of the lighter side of film making; sharing heartfelt moments of nostalgia.
Later, as the others settled in to enjoy cognac, cigars, and tea in the library, Gene politely excused herself.  The trip back to Cos Cob needed to be made, and her train to California left much too early from New York City's Grand Central Station the next day.
As she started to leave, the governor warmly took her gloved hand in his own.  "Gene," he said, "you've added just the right touch to the gathering.  You are truly one of Connecticut's finest exports."
Gene felt her blue eyes start to get a little misty.  For even though she was the toast of Hollywood, a world-traveler, and adored by millions, at heart she was still always little Katie Marshall from Cos Cob--and tonight, that's exactly who she wanted to be.