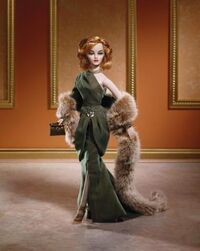 Cold Shoulder
shows
Madra Lord
at the
Golden Star Awards
.
SKU: 38238
Released: 2001
Edition: 3,000
Circa: 1942
Designer: José Ferrand
Company: Ashton-Drake
Retail: $110.00
Madra doll with caramel blonde hair. Styled with side-swept bangs, chin length underflip. Red lips, brown eyeshadow.
Olive green crepe asymmetrical shouldered-gown.
Accessories
Edit
"Fur" stole, fishnet stockings, gold clutch purse.
Gold ribbon tie sandals.
Multi colored beaded necklace, hooped earrings, cuff bracelet.
Description
Edit
Madra looks stunning at the 1941 Golden Star awards - and stunned when she doesn't win. "Cold Shoulder" is a sage green gown with a daring design that bares Madra's left shoulder and has a provocative slit up the side of the skirt. Comes with a long "fur" stole.
Story Card
Edit
The Big Night had finally arrived.  The night of the Golden Star Awards for Achievement in the Year 1941.  And to her great delight (and the chagrin of those she'd snubbed on her way up), Madra Lord was a nominee for Best Actress in Deep Devotion.
This evening was something that Madra Lord had counted on for months to ease her flagging spirits.  As she nestled back into her chair at the huge round table, so nicely reserved for the Monolithic crowd by the Studio itself, she mulled over the past year.  Not only had she been upstaged at the New York premiere of Deep Devotion by that upstart Gene Marshall, she had had to sit by with a broken leg while Gene finished Madra's movie, Blonde Lace, and garnered all kinds of praise; why, last year, she'd even been "Foyled" by Ginger What's-her-name at the BIG Awards.
But, by Godfrey, this was HER year!!  HER award!!
It felt to Madra that the evening dragged on and on.  She dared not leave her seat, for she had checked with the spotlight man before the dinner and told him EXACTLY where to point the beam when Best Actress was announced.  Chilled with anticipation, she kept pulling her stole over her bare shoulder, only to have it slip again every time she leaned forward to hear the presenters.
Finally--Best Actress.  A long deep breath.  The envelope was opened.  And...
And this time, when her wrap fell, Madra left it there.  It was HER turn to feel the cold shoulder's chill.
Ad blocker interference detected!
Wikia is a free-to-use site that makes money from advertising. We have a modified experience for viewers using ad blockers

Wikia is not accessible if you've made further modifications. Remove the custom ad blocker rule(s) and the page will load as expected.