Crescendo is an outfit worn by Gene Marshall in the film Crescendo.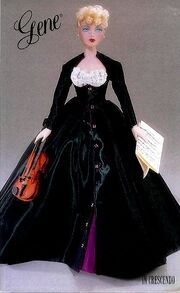 SKU: 93505
Released: 1996
Retired: 2001
Circa: 1946
Designer: Doug James
Company: Ashton Drake
Price: $39.95
Story Card
Edit
Shortly after the war, you are eager for a film role that addresses the recent tensions in Europe, yet has romance and genuine human interest in its plot line.  Crescendo offers that very role.
In this riveting drama, Gene plays Margot Holland, a young American violinist studying in Germany at the time of the Nazi takeover.  She has fallen deeply in love with Rolf, the son of her teacher, but when he is put under surveillance for his anti-Fascist activities, her parents force her to return to the U.S.  Throughout the war, she desperately tries to keep in touch with him through her connections in the music world.  Then that vital link is severed...and Margot fears the worst.  Full of despair, she pursues her concert career as her one consolation.  At one of her first post-war concerts in Belgium, she is playing intensely...when she glances up across the hall...and gasps as she sees Rolf before her in the audience!
This concert gown is the one Gene wears in that climactic scene.  It is a deep, forest-green taffeta...with violin and music in hand, Gene as Margot looks across the audience...and the hall is hushed as the lovers' eyes meet once more!  At this moment, in movie theaters all across America, there was not a dry eye in the house!