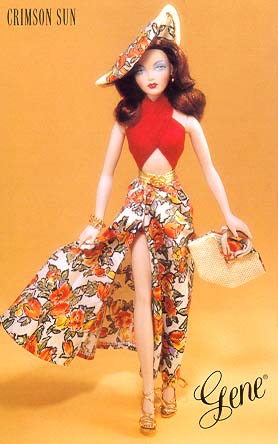 Crimson Sun is an outfit worn by Gene Marshall at a pin-up photoshoot.
SKU: 93502
Released: 1995
Retired: 1999
Circa: 1943
Designer: Doug James
Company: Ashton Drake
Price: $29.95
Story Card
Edit
This Hollywood reporter sat in at the recent studio session where Gene Marshall was being photographed for her first wartime pin-up.  It went like this: "All right, Miss Marshall, let's have a little more leg for those boys in uniform.  Now let's get that windblown look in the hair...walk toward me...fabulous!  Now, let's make it sweet, but smoldering.  Remind them of the girl back home.  Love in the eyes...wish you were here...perfect!"  And if you've seen the results, folks, you know it IS perfect.
Crimson Sun is an ingenious one-piece halter-top knit swimsuit with the look of a two-piece.  Ensemble includes floral-print sarong, matching hat, fabric-trimmed beach tote, and golden, ankle-wrap sandals with matching belt...plus golden earrings and a matching bracelet!  Circa 1943.
To the boys overseas, fighting in WWII, you are a "bombshell", a "knockout", a "gorgeous dame" who fills their dreams each time they see your movies.  So it's only fitting that you should agree to pose for a classic pin-up photo, a shot to be distributed by the thousands to the troops who are your fans.
Gene is happy to oblige, but she insists on maintaining her classy image when the photos are staged on the beach at Malibu.  She wears a spectacular beach ensemble that shows much less of her lovely figure than, say, Betty Grable's famous swimsuit.  But, following her "star" instincts, Gene feels that this outfit reveals "just enough" to make the boys happy...and she is proven right when the photo becomes one of the most sought-after images on all wartime fronts.
The centerpiece of Gene's beach ensemble is her wrapped halter-style swimsuit, an ingenious one-piece design that actually looks like a two-piece.  She wears a tropical-print sarong wrap...pulled aside to show a flash of shapely leg...and a matching hat and beach bag.  Her "star" look is accessorized with her golden belt and laced, high-heel sandals, plus touches of glittering jewelry that she knew would add sparkle to the black-and-white photo.