Criss Cross
shows
Gene Marshall
in the film
Criss Crossed
.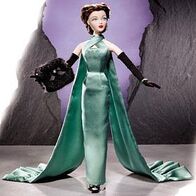 SKU: 76220
Released: 2003
Edition: 2003
Circa: 1951
Designer: Jose Ferrand
Company: Ashton-Drake
Retail:
Gene doll with red hair. Styled with center part and side rolls, braided chignon in back. Coral lips, ??? eyeshadow.
Emerald green criss cross halter column dress with split train.
Accessories
Edit
Black gloves, black "fur" muff, hosiery.
Black sandals with mini buckle.
Green bead dangle earrings, green beaded bracelet.
Description
Edit
Who's double-crossing who? Or is it whom? You'll never know 'til the end of this thriller. But "crosser or crossee," Gene stands out in this glamorous celadon gown with its criss-cross bodice that turns into a flowing double train, circa 1952. Complete with earrings, necklace, shoes, hosiery and custom stand.
Story Card
Edit
"Who's double crossing who?  Or is it 'whom'?  Crosser or crossee, you'll never know whodunnit 'til the end!"
So went the ad campaign for Criss Crossed, Gene Marshall's 1951 mystery thriller.
Gene had already made Tango and Daughter of the Nile that same year--and this foray into an atmospheric "dark old house" melodrama was a welcome change.
The tale of the reunion of thirteen casual former school chums at a gloomy and forbidding beach house had audiences on the edges of their seats.  Gasps and nervous laughter filled the theater at every showing (along with appreciative whistles whenever Gene as the glamorous Christina Cross appeared in a new gown).
Shadowy hallways, dark passages, and a chilling chase crossing the craggy coast for the climax confounded moviegoers as to who the killer was--right up until the last few minutes of the film.  And many an office watercooler jockey was told off after revealing the surprise ending to coworkers who hadn't seen the movie yet!
Gene loved her role so much in Criss Crossed that she jumped at the chance to spread the word about the film--even appearing in a one-hour radio version that recreated the film...right up to the final revelation!  The day after the broadcast, theaters across the country bulged with eager fans dying to know exactly WHODUNNIT!!!
Ad blocker interference detected!
Wikia is a free-to-use site that makes money from advertising. We have a modified experience for viewers using ad blockers

Wikia is not accessible if you've made further modifications. Remove the custom ad blocker rule(s) and the page will load as expected.