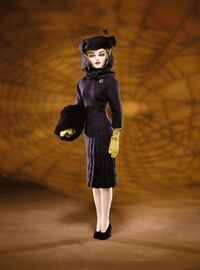 Dark Desire
shows
Madra Lord
in the film
The Lady or the Spider?
SKU: 76659
Released: 2002
Edition: 3000
Circa: 1942
Designer: George Sarofeen
Company: Ashton-Drake
Price:
Madra doll with red center-parted hair. Styled in rolls. Maroon lips, brown and gold eyeshadow.
Black crepe pleated dress, lined in chartreuse.
Accessories
Edit
Black chartreuse-lined hood. chartreuse gloves, black muff, hosiery.
Black "velvet" pumps.
Silver brooch, silver stud earrings.
Description
Edit
Madra chats with a fan about a courtroom scene in The Lady or the Spider, in which she's on trial for the mysterious murder of her second husband - or was it her third?
Story Card
Edit
"'42's The Lady or the Spider? was a classic--and one of your most versatile performances."
"Versatile.  That's sweet, dearest--but 'brilliant' probably would be closer to the truth..."
Madra was at the opening of another picture, chatting with an admirer who had fanned her ego enough to push her past a perfunctory "pleased-to-meetcha"--and now that she had his ear, she held on like a terrier.
"I FOUND that story you know, in a little woman's magazine.  I had to practically LAY my CONTRACT on the line to get R.L. to produce the thing.  And what thanks did I get?"
"The enduring love and admiration of your public for a 'brilliant' performance?" the fan offered.
"Well, of course, THAT--but I was hoping for an award of some kind.  I mean, look at the range of acting: I ran the gamut from A to Z and back again, PDQ.  Passion.  Tears.  Deceit.  Gape-jawed innocence.  And the scene in the witness box..."
The fan sighed.  "On trial for the murder of your third husband.  In your widow's weeds..."  The fan took on the voice of the bailiff: "State your name."
Without batting an eye, Madra chimed in with her line: "Winifred Ives Donnely Odom Waterston."
"How did you remember all that?" gushed the fan.
"Easy, darling: I just took the first letter of each name--a little mnemonic trick we actors use.  And did you notice the way I eyed the prosecuting attorney all the way through that scene--whose last name was BLACK?"
Ad blocker interference detected!
Wikia is a free-to-use site that makes money from advertising. We have a modified experience for viewers using ad blockers

Wikia is not accessible if you've made further modifications. Remove the custom ad blocker rule(s) and the page will load as expected.