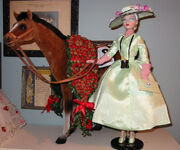 2003 Derby Dreams convention doll shows
Gene Marshall
at the Kentucky Derby.
SKU:
Released: 2003
Edition: convention, 450
Circa: 1948
Designer:
Company: Ashton Drake
Price: Part of convention package
PEACH VERSION (Helper Doll)
SKU:
Released: 2003
Edition: convention
Circa: 1948
Designer:
Company: Ashton Drake
Story Card
Edit
Sitting in the shadows of the twin spires of Churchill Downs, Gene could feel the excitement growing around her.  Here she was, waiting for the bugle to sound the call to begin the 1948 Kentucky Derby--the very first time she'd been asked to attend.
Gene had loved horses since she was a little girl.  As she sat amid the hats and finery of the race, holding a chilled mint julep, she started thinking about her tour of Calumet Farms that afternoon.  One particular colt had caught her eye: a chestnut, sleek and powerful.  If only he'd have been hers.  She'd even picked a name: Gene's Dream!
As the horses walked onto the track, she drifted into a lovely daydream.  There she was, in racing silks, seated atop a beautiful horse, leading the way to the starting line.  She could hear the announcer, his voice ringing throughout the stands, as hatted heads turned toward the track: "And now, approaching the gate--Miss Gene Marshall riding Gene's Dream--two beautiful thoroughbreds poised to ride to the winner's circle!"  As she turned and waved to the crowd, she could hear them chanting, "Gene's Dream!  Gene's Dream!  Gene's Dream...!"
Suddenly she realized that the gentleman to her left was tapping her lightly on the shoulder.  "I don't mean to intrude on Miss Gene's dream," he said, smiling through his goatee, "but you're going to miss the race!"
Gene laughed and began waving her program.  She had circled Citation as her choice for winner of this year's Run for the Roses.  She was certain he would win--but she knew in her heart of hearts that Gene's Dream would have left him and the others in the dust!
Ad blocker interference detected!
Wikia is a free-to-use site that makes money from advertising. We have a modified experience for viewers using ad blockers

Wikia is not accessible if you've made further modifications. Remove the custom ad blocker rule(s) and the page will load as expected.