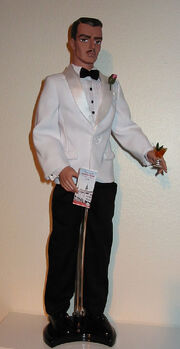 Trent fashion from the 2003 Derby Dreams convention.
SKU: 37962
Released: 2003
Edition: 350
Designer:
Company: Ashton Drake
Price:
Story Card
Edit
1948. I never could have imagined it. Quiet corner table. Candlelight. Champagne. And my dinner date tonight is a colonel. Of course, the colonel's name is Miss Gene Marshall, which makes it all worthwhile.
Quite honestly, I was flattered that "Colonel" Marshall asked me to be her escort at her induction into the Honorable Order of Kentucky Colonels. The festivities so far have been great. The Southern Hospitality has been every bit as advertised. And I NEVER turn down the chance to be present at a good race—and the Derby is, of course, one of the best.
And I must admit, these Southern belles are filled with "ap-peal!"
Gene looked absolutely stunning at the ceremony—a prettier colonel I've never seen. And that mint julep we toasted her with certainly hit the spot.
Hmmm—well, look who's over at one of the side tables: Miss Madra Lord. She looks lovely—and a little miffed that SHE didn't make colonel, too. Ah well, Madra dear—guess you'll have to settle for being a Milwaukee PFC!
Whoops, time for another toast. What is it this time? The Kentucky handshake, the Kentucky horse...all I know is, if there are too many more toasts, they'll have to wheel me to My Old Kentucky Hotel!
Ad blocker interference detected!
Wikia is a free-to-use site that makes money from advertising. We have a modified experience for viewers using ad blockers

Wikia is not accessible if you've made further modifications. Remove the custom ad blocker rule(s) and the page will load as expected.