El Morocco is an outfit worn by Gene Marshall.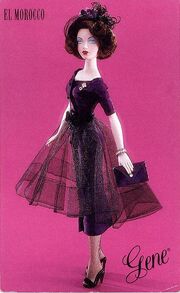 SKU: 93506
Released: 1996
Retired: 2000
Circa: 1955
Designer: Timothy Alberts
Company: Ashton Drake
Price: $29.95
Story Card
Edit
Taking a break from your hectic film schedule, it's wonderful to go back East to visit family and friends in New York City.  But it's not so easy to go out for a relaxing night on the town as it used to be!  Now your fans are everywhere, photographers are your constant shadow, and what you do, who you see, and what you wear...makes the papers and the fan magazines within hours!
Still, Gene tries to be as low-key as possible when she travels home.  She likes to stay with her parents in the house she grew up in, where she can relax and just be herself.  But to commemorate her father's fiftieth birthday celebration, she decides to treat the family to an evening of dinner and dancing at El Morocco, one of New York's most glittering nightclubs, well-known for its celebrity clientele.
For this special evening, Gene selects one of her most unique, chic cocktail dresses in a rich shade of plum taffeta.  The form-fitting sheath has jet buttons, a full overskirt of black tulle, and a velvet bow at the waist...very fashion-forward details for the era!  With this dress Gene wears a smart feathered hat with a face veil and carries a matching clutch bag.  Two rhinestone scatter pins and a rhinestone and amethyst bracelet add tasteful glitter to a truly memorable ensemble.  And Gene's parents enjoy it all, taking her stardom in stride.