Embassy Luncheon is an outfit worn by Gene Marshall in the film Tango.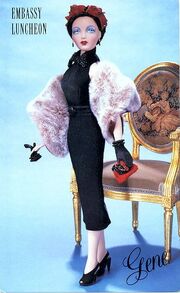 SKU: 94652
Released: 1998
Circa: 1951
Designer: Laura Meisner
Company: Ashton Drake
Price: $34.95
Story Card
Edit
In the summer of '51, one word was one everybody's lips--Tango, the sizzling date movie of the year.  Filmed on location in Buenos Aires, Argentina, Gene and her leading man set hearts afire with their rapturous portrayals of Adell and Raoul, a strong-willed diplomat's daughter and her dark-eyed artist paramour.
In a memorable scene, Gene is hosting a luncheon for her ambassador father at the U.S. embassy.  She is the model hostess--yet her gracious smile hides sadness.  Her father has ruthlessly separated the two lovers, and announced her engagement to a wealthy dilettante of his choosing.  Adell is crushed by her seeming abandonment by Raoul.  It is during this formal and subdued diplomatic luncheon that Raoul unexpectedly returns from an enforced recruitment aboard a seagoing tanker.  In a flash, it is all too clear to Adell what her father has attempted.  Tempers flare, and much is said that will later be regretted.  The luncheon is shattered.  Catching up her silver fox stole and purse, she lays a hand upon her lover's arm, gazing up at him with incandescent happiness.  Together they walk triumphantly out of the embassy as the ambassador bellows in fury and audiences cheer for young love!
An exotic locale, rich technicolor, and some of the most breathtakingly beautiful close-ups ever taken of an actress and actor, transformed Tango from a romantic film into cinematic history.