Essentially Gene was a series of dolls wearing looser hairstyles and minimal wardrobe.  In 2006 Gene was available in black (with pink lingerie), blonde (with black lingerie), and redhead (with nude lingerie); in 2007, she was a brunette with red lingerie from the film Rouge Blaine.
Blush (braided)
Edit
SKU: 92000A
Released: 2006
Edition: 1000
Price:
Vixen (blonde)
Edit
SKU: 92000B
Released: 2006
Edition: 1000
Price:
Boudoir (redhead)
Edit
SKU: 92000C
Released: 2006
Edition: 1000
Price:
Rouge (banged raven)
Edit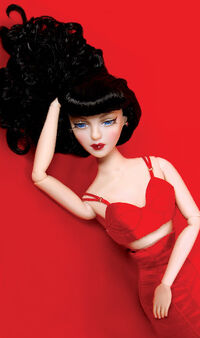 SKU: 92009
Released: 2007
Edition: 750, site exclusive
Price:
"Rouge" is French for "red," and in movie making is shorthand for trouble. Gene, as the title character in "Rouge Blaine," makes the most of red's potential, wearing a two-piece example of classic mid-century boudoir-wear. A spirited play of black and red starts at the top and goes like this: black "V for vamp" pageboy; heavily stitched red satin bra and girdle, gartered to black seamed stockings, sliding toe-first into red satin slippers. Not exactly a good-girl look.
Ad blocker interference detected!
Wikia is a free-to-use site that makes money from advertising. We have a modified experience for viewers using ad blockers

Wikia is not accessible if you've made further modifications. Remove the custom ad blocker rule(s) and the page will load as expected.