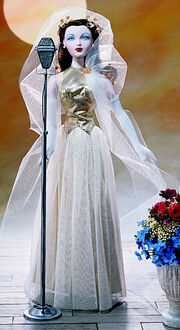 Farewell Golden Moon
is an outfit worn by
Gene Marshall
on a USO tour.
SKU: 76067
Released: 1999
Retired: 2002
Circa: 1944
Designer: Tim Kennedy
Company: Ashton Drake
Price: $44.95
Story Card
Edit
"Farewell, golden moon, for my love is gone away..."
From July to early August of 1944, Gene Marshall traveled through England and France with a troupe of entertainers on the perilous Foxhole Circuit of the USO Camp Shows.  They were part of the "Soldiers in Greasepaint", braving the front lines to offer embattled soldiers a precious respite from both the terror and tedium of war.
"I've wished on every star for him to come home..."
They traveled like gypsies from camp to camp, making do with what rough comforts they had, despite their star status.  They performed on makeshift stages in the middle of cow fields or on supply trucks.  They sang boogie-woogie tunes, danced, got laughs with hilarious comedy sketches...but nothing touched them like Gene's "Farewell Golden Moon".
"The night is too long without my love beside me..."
Whenever Gene sang the heart-aching ballad of a lonely woman who yearns for her love to come home, the G.I.s would sit transfixed, unashamed at the tears in their eyes.  Any soldier that ever saw Gene sing that poignant, bittersweet melody--standing so luminous and ethereal under the glistening light of a summer's moon--he saw in her his own special girl waiting at home, praying for his safe return.  In that twilight realm between civilization and war, Gene shone incandescent with memories, hope, and the golden promise of love and devotion.
"So farewell, golden moon, 'til his arms are around me again."