Fascination shows Violet Waters on an album cover.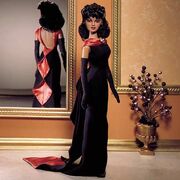 SKU: 76720
Released: 2002
Circa: 1958
Designer: Lynne Day
Company: Ashton Drake
Price:
Story Card
Edit
1958.  "'Fascination' in lavish stereophonic sound.  It's like having Violet Waters right in your living room!"
Violet smiled at the advertising line on the mock-up of her first stereo album cover.  There were still some places where folks wouldn't even let her sit--now she was going to be a guest in their homes...but that was just one of the ironies of the business.
"Miss Waters?"  The photographer's assistant tapped her lightly on the shoulder.
"Ready?"  Violet turned--and the sheer wattage of her smile almost made the studio lights seem dim.
"You bet!  If you could take your place in front of the camera, we'll get started."
By now, Violet was an old hand at this.  So many album covers; so many different poses.  Innocent.  Earthy.  Playful.  And now--fascinating!
As Violet made her way towards the carefully lit set, her eyes fell on a prop table.  On a whim, she grabbed a mask perched atop a stick.
"Now THAT'S fascinating," she thought, and spent the next half hour inventing various poses, using the mask to enhance her already fascinating persona.
Finally the photographer smiled.  "Thank you, Miss Waters--I think I have more than enough.  This should sell a lot of albums."
"Well, I hope they buy it for something more than just the cover!" said Violet in mock irritation--and then she and the crew burst into laughter...
Ad blocker interference detected!
Wikia is a free-to-use site that makes money from advertising. We have a modified experience for viewers using ad blockers

Wikia is not accessible if you've made further modifications. Remove the custom ad blocker rule(s) and the page will load as expected.