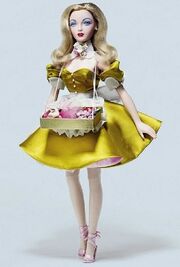 First Close-Up
is an outfit worn by
Gene Marshall
in the film
Blonde Lace
.
SKU: 76524
Released: 2000
Edition: 5000
Circa: 1941
Designer: Tim Kennedy
Company: Ashton Drake
Price: $39.95
Story Card
Edit
Hollywood at last!  Her first day on the set of the film Blonde Lace was filled with excitement for Gene.  Ever since setting foot on California soil, life had been one dizzying adventure after another.  And now, here she was, getting ready for her first close-up in a major Hollywood film.
The part was just the thing for a young starlet: a small but showy role as a strolling vendor in a nightclub.  Just big enough to show off her skill at acting and comic timing; just small enough to tease audiences and keep them wanting more.
The scene was set.  The lights were in place and focused.  Being a newcomer, Gene had to serve as her own lighting stand-in, but kept her cool.  Only slightly wilted from standing in the hot arcs, the make-up girl only had to give her a quick touch-up before the cameras rolled.
"Scene 28, Cut-In Close-Up, Gene Marshall, take one.  Speed. Aaaaaannnnnd--ACTION!"
The camera hovered just to Gene's right.  "Hey, mister!  A pretty posy would perk up that sharp lapel!"  Her off-screen line reading was on the money--and the camera swept right and quickly zoomed in tight on Gene's luminously lovely face.  A soft smile twinkled over her lips, revealing itself in full bloom.  Even the cameraman sighed.
Gene's first close-up was one the world would never forget.
Ad blocker interference detected!
Wikia is a free-to-use site that makes money from advertising. We have a modified experience for viewers using ad blockers

Wikia is not accessible if you've made further modifications. Remove the custom ad blocker rule(s) and the page will load as expected.