First Encounter shows Madra Lord in the film of the same name.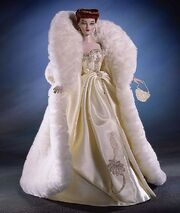 SKU: 96311
Released: 2000
Retired: 2001
Circa: 1952
Designer: Christine D. Curtis
Company: Ashton Drake
Price: $110.00
Story Card
Edit
"GALA FILM PREMIERE TONIGHT!" the morning papers trumpeted.  "Come and see your favorite stars as they enter the regal Regency Theatre.  And who will be on Trent Osborn's arm?  Will it be that glamorous veteran of the silver screen, Miss Madra Lord, star of First Encounter...?"
Madra choked a bit on her Bloody Mary.  To be labeled a "veteran" in the newspaper was no doubt meant as a compliment--but it also smacked of "has-been" and reminded her of her struggle to the top.  And now, with so much riding on the success of her performance on and off the screen tonight...
Everyone was on hand to witness the festivities.  As predicted, Madra was there, on Trent's arm.  The boisterous clatter of adoring applause greeted her as she swept down the red carpet and into the theatre.
And when Madra made her first appearance on the screen in First Encounter, her beauty made men gasp--and women nudge their spouses.  There she was, strolling sadly down a rain-soaked street having left the party still dressed in a beautiful ivory gown and full-length fur.  Head down, she pulled the coat around herself--and bumped headlong into a handsome stranger.  Now it was the women's turn to sigh--because knowing the movies, this first encounter wouldn't be the last.
Madra, sitting curled in her seat at the back of the theatre, secretly smiled in the darkness.  Veteran--maybe; enchantress of the movies--from the first encounter on!
Ad blocker interference detected!
Wikia is a free-to-use site that makes money from advertising. We have a modified experience for viewers using ad blockers

Wikia is not accessible if you've made further modifications. Remove the custom ad blocker rule(s) and the page will load as expected.