Flame
depicts
Madra Lord
in the film
Stepping High 's
chorus line.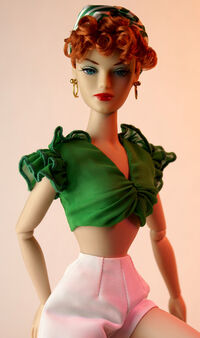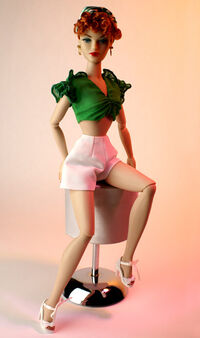 SKU: 92028
Released: 2007
Edition: 350
Circa:
Inspiration:
Company: Integrity Toys
Retail:
Madra doll with bright red hair, styled in barrel curl bangs and high french twist. Red bow lips, soft green eyeshadow.
Kelly green chiffon tank shirt with ruffled cap sleeves, white high-waisted shorts.
Accessories
Edit
Green and white striped satin turban.
Ankle-strap open-toed white sandals.
"Gold" hoop earrings.
Description
Edit
Introducing the Stepping High collection, as this season Gene marshall and Madra Lord star together in Monolithic Studio's biggest backstage musical ever. In tribute to the fashion follies of Hollywood hocus-pocus, we bring you a veritible chorus-line of choices for our girls as they tap their way into your hearts and their stunning wardrobe choices.
Script / Star File
Edit
Ad blocker interference detected!
Wikia is a free-to-use site that makes money from advertising. We have a modified experience for viewers using ad blockers

Wikia is not accessible if you've made further modifications. Remove the custom ad blocker rule(s) and the page will load as expected.