Formal Introduction shows Trent Osborn in a tuxedo.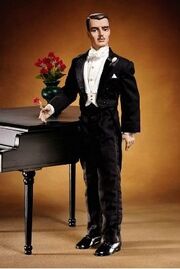 SKU: 38250
Released: 2001
Designer: Lynne Day
Company: Ashton Drake
Price: $110
Story Card
Edit
Oh, the tales these tails could tell...
I've worn these duds to many a fancy Hollywood bash. Grand premieres of films that I was in--and quite a few that I wasn't. Broadway openings. Even to a couple of my weddings...
Sometimes I imagine I can still smell the perfumes of the various and sundry beauties I've squired while wearing these tails. Mary, Madra, Greta, Gene, Veronica--even ZaSu. Faint whiffs of loveliness that spark memories of happy times (and an occasional slap or two--well-deserved, I might add, and worth every smack).
The thing I like about them most though is that they never go out of style. They always look good, no, great. They always fit the occasion, never looking too common at the toniest of affairs; but with the loosening of a tie or the removal of a coat, they can take on an air of nonchalance that befits the rowdiest of parties.
So the next party you're having, give me a call. "Have Tails, Will Travel" is my motto. And my tails and I are always happy to tell a tale or two...
...or add a new one to our repertoire!
Ad blocker interference detected!
Wikia is a free-to-use site that makes money from advertising. We have a modified experience for viewers using ad blockers

Wikia is not accessible if you've made further modifications. Remove the custom ad blocker rule(s) and the page will load as expected.