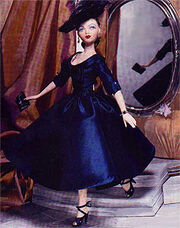 Friendly Connection
is an outfit worn by
Gene Marshall
.
SKU: 76155
Released: 2000
Edition: Ashton-Drake exclusive, 2500
Circa: 1956
Designer: George Sarofeen
Company: Ashton Drake
Price: $39.95
Story Card
Edit
"WILL-BE-IN-LOS-ANGELES-SHORT-TIME-BETWEEN-FLIGHTS-STOP-ARE-YOU-AVAILABLE-FOR-COCKTAILS-AND-DINNER-STOP-LET-ME-KNOW-END" read the wire that arrived from a dear old friend from Gene's hometown of Cos Cob.
"OF-COURSE-STOP-WE-WILL-HAVE-A-GREAT-TIME-STOP-LEAVE-EVERYTHING-TO-ME-STOP-HUGS-AND-KISSES-GENE-END" Gene wired back.
Then the fun began.  Gene always loved planning an event--even a dinner for two.  First, Gene called her favorite restaurant and made reservations and ordered dinner, so it would be ready and waiting.  Then she called a limousine service and arranged to have her friend picked up at the airport and whisked to the restaurant.  Then, finally, shopping for a new dress.  She finally settled on a beautiful dark blue taffeta, with a flattering flare.  Now, for all the accessories that HAD to go with it: beaded purse, jewelry--and oh, that hat with the feathers!
The evening arrived--and so did Gene's friend.
"As usual, you've outdone yourself," said her friend.
"I knew you'd be in a hurry, so I wanted everything to be perfect," smiled Gene.
"And it is--but guess what?  My flight's been canceled!  So now we have all the time we need to catch you up on the latest from home..."
Ad blocker interference detected!
Wikia is a free-to-use site that makes money from advertising. We have a modified experience for viewers using ad blockers

Wikia is not accessible if you've made further modifications. Remove the custom ad blocker rule(s) and the page will load as expected.