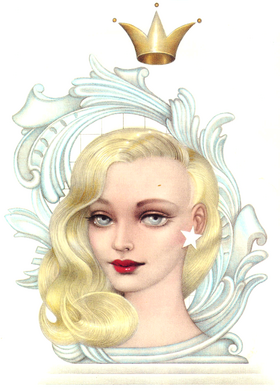 Gene Marshall is a fictional movie star of the mid-20th century and the center of the Gene fashion doll collection.

Gene Marshall was introduced in doll form in 1995, ending production in 2010 when the product line was retired. Dressed and Basic dolls were produced by both Ashton-Drake and Integrity Toys, as well as Gene -specific film costumes, personal outfits and accessories.
Biography
Edit
Gene was born Kathryn Gene Marshall on April 17, 1923, to Alfred and Alice Marshall in Cos Cob, Connecticut.  In 1941, while working as an usherette, she was discovered by director Erik von Sternberg and began work for Monolithic Studios.
From the Ashton Drake, Gene story card:
Her name was Katie Marshall. It was only after she was discovered by a famous Hollywood director that she adopted her beloved grandfather's name. Gene -- because he had always urged her to follow her dreams.
Deeply inspired by Hollywood's greatest movie stars, Katie refined her natural abilities with after-school lessons in acting, dance and music, and by performing in a local community theatre. She quickly won the hearts and admiration of everyone who saw those early performances... for even then, Gene was surely destined for stardom.
Still pursuing her dream, she made her way to New York City, becoming an usherette at a fashionable movie theatre frequented by celebrities.
On a night that forever changed her life, Gene led a tall, distinguished man to his seat in the darkened theatre. Her flashlight fleetingly revealed her lovely face to him. Astonished at her beauty and poise, the noted movie director declared her his latest discovery, whisked her to Hollywood, and helped polish Gene's shining star.