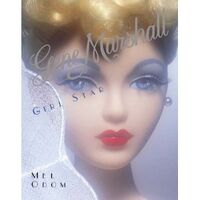 Gene Marshall: Girl Star is a fictional biography of the Gene Marshall doll and the characters in her world, Monolithic Studios.
ISBN: 978-0786865574
Released: 2000
Edition: Hardcover
Author: Mel Odom
Company: Hyperion Books
Retail: $29.95
Description
Edit
Who was that beautiful girl sweeping past the crowd at last nights big New York City premiere? The gorgeous honey blond with the perfect body, big baby blues, and a pair of legs that won't quit? She's Gene Marshall, Hollywood's newest sensation, and this is her story. Having sprung full bloom from the brilliant mind of renowned artist (and avid doll collector) Mel Odom, the Gene Marshall fashion doll is fast becoming one of the worlds most desired collectibles. With one million sold since her inception in 1995, she's giving Barbie a real run for her money.
This fun, richly illustrated fictional biography of Gene Marshall captures all the glamour and excitement of an era long gone as it reveals Gene's humble past, her amazing discovery by a famous Hollywood director, and her meteoric rise to fame. Peppered with first-person reminiscences of real and imagined celebrities, and filled with line drawings, memorabilia, and stunning photographs of Gene in her drop-dead outfits--including two costumes that are displayed here for the first time this classic star is born story will enthrall Gene's growing cadre of fans hungry for the details of her spectacular ascent.